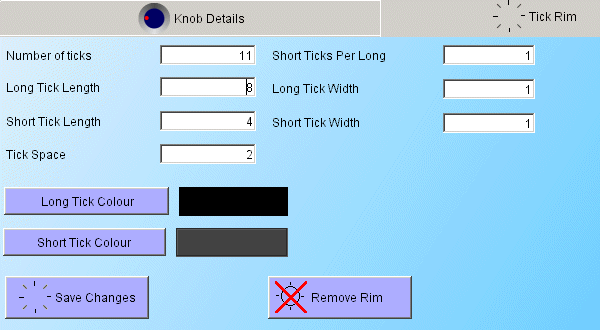 The tick rim panel allows you to set up a set of indicative 'tick marks' on the edge of a knob or a meter. You can set up the number and type of the ticks. Two types are provided - long and short. The long ticks are designed to show main values and the short ticks are designed to show interim values. The number of short ticks between each long tick can be set. The total number of ticks is the number of long ticks plus the number of short ticks. If you have defined a label rim (see here) labels will only be shown for the long ticks. You can also set the width of the long and short ticks. The diagram below shows how each setting affects the appearance of the tick rim.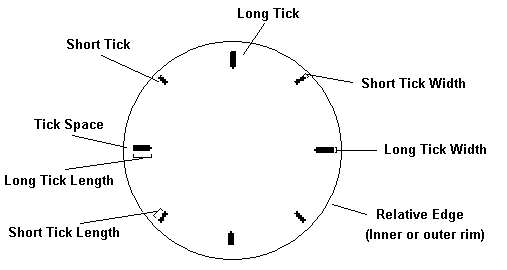 Note that the 'Remove segments' button will not actually get rid of the segments that you have created. You can put the segments back on the illustrative display (and into the generated code) simply by pressing the 'Save Segments' button again.
Tip - if you want to start and end on a long tick you will need an uneven number of ticks. This is useful where your indicator is only an arc of a circle and not the full circle. In the knob below the start angle is 225 and the end angle is -45 and there are 11 ticks with 1 short tick per long tick.